Silt Fence Material, Woven PP, 70 Gram, SZ. 3' x 1500'
Article number:
40293609
Availability:

In stock

(25)
Delivery time:
1 - 3 business days
Please contact us at 281-717-8921 for pricing and availability. You can also complete the quote request form below for pricing and a shipping quote.
Product Description:
Silt fence is a geotextile fabric stretched between wooden or metal stakes which provides a sediment barrier to keep polluted waters from eroding away from construction and landscaping sites. Silt fence captures sediment primarily through ponding of water and settling. Silt fence helps to protect streams, rivers, lakes and other aquatic resources as well as terrestrial resources from contamination by silt, sediment and construction debris. Our silt fence is UV stabilized for longer life and can be quickly installed on almost any terrain.
Buying affordable and quality silt fence master rolls will save time and money for large installation projects, whether utilizing a silt fence machine or assembling silt fence in the field. Our 70-gram silt fence fabric master roll, which is 3' wide by 1500' long, is a great choice for construction projects requiring a large sediment control barrier.
At Silt Management Supplies we offer silt fence to meet any commercial, residential or site-specific specification. We offer wire backed silt fence, preassembled wood-staked silt fence or you can purchase silt fence fabric rolls only. Available in a variety of styles and gram weights, you are sure to find the type of silt fence that is best suited for your individual project requirements.

Benefits:
Prevents soil loss at work sites and during landscaping
Allows fluids to pass through while trapping soil particles
Environmentally friendly as it prevents silt runoffs into bodies of water
Rugged material resists tearing and strength loss from extended use in sunlight
Easy to install and extremely versatile
Made from black, UV resistant polypropylene
Product Details:
Item # 40293609

Master Roll Size: 3' x 1500'
Area of coverage: 500 square yards
Stakes are sold separately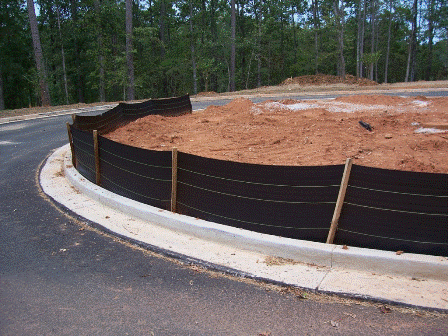 0
stars based on
0
reviews