Non-Woven Geotextile Fabrics, Various Strengths & Sizes
Article number:
39297198
Availability:

In stock

(1)
Delivery time:
1 - 3 business days
Please call 281-717-8921 for additional information and pricing
Product Description:
Non-Woven Geotextile Fabrics are the most commonly known geotextiles, which has a felt-like consistency and combines strength and water flow. The main functions for these products are filtration and separation. The most common nonwoven is a needle-punched product. Staple fibers or continuous filaments are bonded by mechanically entangling the fibers with barbed needles. It looks and feels like black felt.
Non-Woven Geotextile Fabric is a polypropylene, needle punched fabric engineered for strength and permeability. Made in several different weights and filtration levels, these geotextiles are an ideal solution for separation, drainage, sediment control, cushioning, and various other construction and road repair applications. Nonwoven fabrics are high in resistance to UV rays, rot, and degradation.
Non-Woven Geotextiles Fabrics are designed to be used to improve performance and reduce costs of subsurface drains, roadways, railroads, dams, landfills and more. Available in varying weights and thicknesses, the fabrics are strong but permeable, allowing for varied uses.
Non-Woven Fabrics are commonly used as a separator between subsoil and rock rip rap, and they also are used to separate soils and sized stone in many ground-level and subsurface drainage applications. Non-woven geotextile fabrics have a random, three-dimensional pore structure and are highly water permeable, as is necessary for many geotextile ends uses. Nonwoven filtration examples include wrapping geotextile around a pipe or enclosing stone with a geotextile to create a system that allows water to pass but keeps soil from infiltrating and clogging the system. These are often referred to as french drains, trench drains or retaining wall drains.
Non Wovens Fabrics can also be used in light to medium separation applications. These include paver patios or walkways; outdoor areas where cows or horses exercise to prevent mud; stream crossings in light traffic areas; or under playground mulch. They are also popular for separation and drainage under athletic field installations.
A wide range of fabric weights ranging from 3.1oz. to over 16 oz. is offered to meet the requirements of various non-woven applications. Custom sizes are available with all our woven and non-woven geotextile fabrics.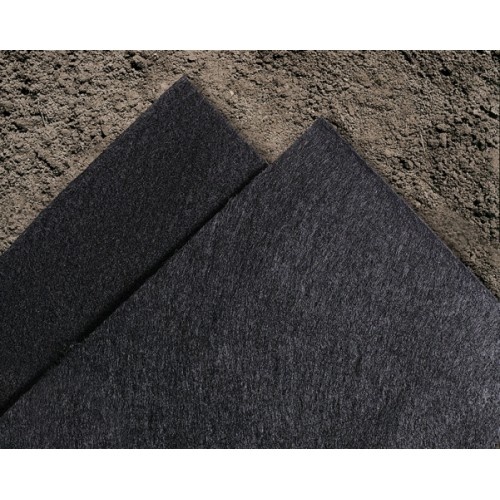 Applications Include:

Asphalt Overlay
Cow Carpet
Cushioning
Drainage Applications
Erosion Protection
Filter Fabric
French Drains
Geomembrane Cushion
Landscape Fabrics
Liner Underlay
Pipe Wrap
Rip rap
Separation Under Pavers
Stream Crossings
Stabilization
Subsurface Drainage
Underlayment
Sediment Control
Trench Drains
Under Drains
Weed Barrier
Benefits:
100% propylene filled fibers
Needle-punched
Random network formation
UV resistant
Rot resistant
Biological degradation resistant
Stable within 2-13 pH
Specifications:
| | |
| --- | --- |
| Fabric: | Needle Punched Non-Woven |
| Typical Weight Options: | 3.1 oz. up to 16 oz. |
| | |
| --- | --- |
| Roll Size Options: | 3' W x 300' L |
|   | 12.5' W x 300' L |
|   | 12.5' W x 360' L |
|   | 15' W x 300' L |
|   | 15' W x 360' L |
|   | 15' W x 150' L   - LM 1600 NT 16 oz. |
| | | | | | |
| --- | --- | --- | --- | --- | --- |
| Item # | Product Name | Weight | Standard Sizes | Description NP- (needle punched) | Certified or Non-Certified |
| 39297191 | LM 310 | 3.1 oz. | 12.5' x 360' | NP Non-Woven | /NON-NTPEP |
| 39339964 | LM 310 | 3.1 oz. | 15' x 360' | NP Non-Woven | /NON-NTPEP |
| 39297194 | LM 350 | 3.5 oz. | 12.5' x 360' | NP Non-Woven | /NON-NTPEP |
| 39339982 | LM 350 | 3.5 oz. | 15' x 360' | NP Non-Woven | /NON-NTPEP |
| 39297198 | LM 400 | 4 oz. | 12.5' x 360' | NP Non-Woven | /NON-NTPEP |
| 39339997 | LM 400 | 4 oz. | 15' x 360' | NP Non-Woven | /NON-NTPEP |
| 39297201 | LM 400 NT | 4 oz. | 12.5' x 360' | NP Non-Woven |  /*NTPEP Certified |
| 39340014 | LM 400 NT | 4 oz. | 15' x 360' | NP Non-Woven |  /*NTPEP Certified |
| 39339066 | LM 450 | 4 oz. | 12.5' x 360' | NP Non-Woven |  /NON-NTPEP |
| 39340040 | LM 450 | 4 oz. | 15' x 360' | NP Non-Woven |  /NON-NTPEP |
| 39340060 | LM 450 NT | 4.5 oz. | 12.5' x 360' | NP Non-Woven | /*NTPEP Certified |
| 39340067 | LM 450 NT | 4.5 oz. | 15' x 360' | NP Non-Woven | /*NTPEP Certified |
| 66837781 | LM 600 NT | 6 oz. | 3' x 300' | NP Non-Woven | /*NTPEP Certified |
| | LM 600 NT | 6 oz. | 12.5' x 360' | NP Non-Woven | /*NTPEP Certified |
| 39340110 | LM 600 NT | 6 oz. | 15' x 300' | NP Non-Woven | /*NTPEP Certified |
| 39340125 | LM 800 NT | 8 oz. | 12.5' x 360' | NP Non-Woven | /*NTPEP Certified |
| 39340142 | LM 800 NT | 8 oz. | 15' x 300' | NP Non-Woven | /*NTPEP Certified |
| 39340182 | LM 1000 NT | 10 oz. | 12.5' x 360' | NP Non-Woven | /*NTPEP Certified |
| 39340229 | LM 1000 NT | 10 oz. | 15' x 300' | NP Non-Woven | /*NTPEP Certified |
| 39340246 | LM 1000P NT | 10 oz. | 12.5' x 360' | NP Non-Woven | /*NTPEP Certified |
| 39340270 | LM 1000P NT | 10 oz. | 15' x 300' | NP Non-Woven | /*NTPEP Certified |
| 39340295 | LM 1200 NT | 12 oz. | 12.5' x 360' | NP Non-Woven | /*NTPEP Certified |
| 39340312 | LM 1200 NT | 12 oz. | 15' x 300' | NP Non-Woven | /*NTPEP Certified |
| 39340320 | LM 1600 NT | 16 oz. | 15' x 150' | NP Non-Woven | /*NTPEP Certified |
Standard Weights / Sizes:
* NTPEP (National Transportation Product Evaluation Program)
NTPEP is used when NTPEP Geotextile Fabric is required by the State
Heavier weights and custom roll widths and lengths available - please contact us to order
LM 600 Non-Woven Geotextile Fabric Spec Sheet
LM 800 Non-Woven Geotextile Fabric- Spec Sheet
LM 1000 NT Non-Woven Geotextile Fabric - Spec Sheet
LM 1200 NT Non-Woven Geotextile Fabric-Spec Sheet
0
stars based on
0
reviews