Geogrid SQ2020 - TY2, SZ. 13.12 'x 246' - TXDOT
| | |
| --- | --- |
| Article number: | 39169497 |
| Availability: | Usually ships within 2 to 5 business days |
| Delivery time: | Please contact us for delivery timeframe |
Please Note: Orders placed online will not be processed without obtaining a shipping quote beforehand. Please fill out the "Request A Quote" form below. 
Please call 281-717-8921 for pricing
Item # 39169497
Geogrid SQ2020 - TY. 2
SZ. 12 'x 246'
Product Description:
Tensar Biaxial Geogrids provide support for the construction of access roads, highways and applications on weak subgrades that previously required expensive over excavating and replacing. Geogrids are also used for road and rail construction on stable subgrades to reduce aggregate thickness requirements and/or extend roadway performance life. Biaxial geogrids have proven their performance and cost-efficiency in thousands of applications. Over soft ground, geogrids improve the soil's effective bearing capacity by distributing applied loads over a greater area, reducing vertical pressure on the subgrade. This allows for longer design life compared with a similar unreinforced section. Over firmer ground, geogrids stiffen and interlock with fill materials by confining aggregate particles within its apertures, thus yielding a stronger component for increased serviceability and durability.
Structural Benefits:
Reduced lateral spreading of the base course
Increased confinement leading to stiffer base
Reduced asphalt fatigue
Overall, roads and railways designed with geogrids can see increased load bearing capacity, a longer service life and reduced section thickness.
Base Reinforcement:
In base reinforcement applications such as paved or unpaved roads, geogrids are used to provide reinforcement and confinement to base course materials. Geogrids change the way the base course performs under load. With their open grid structure and high tensile modulus, they interact with and confine base course materials.

Subgrade Improvement
When weak subgrade conditions are encountered Biaxial geogrids are used to provide a temporary road surface or a stable foundation for a permanent road. Biaxial geogrids work much like a snowshoe to distribute loads over a wider area.
Typical Applications:

Soft soil stabilization
Base reinforcement
Embankments over soft soils
Working Platforms
Haul roads
Tensar Biaxial Geogrid SQ2020_Specification Sheet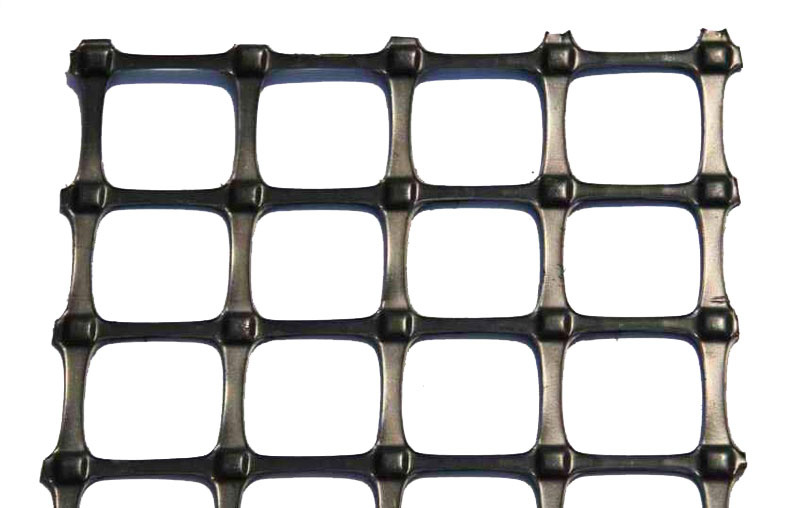 0
stars based on
0
reviews