Mirafi H2Ri, Woven Geosynthetic Material, SZ. 15' x 300'
| | |
| --- | --- |
| Article number: | 37621725 |
| Availability: | Usually ships within 2 to 5 business days |
| Delivery time: | Please contact us for delivery timeframe |
Please contact us for pricing. Orders placed online for this product will not be processed without completing a shipping quote.
Item # 37621725
Mirafi H2Ri, Woven Geosynthetic Material
SZ. 15' x 300'
Product Description:

TenCate Mirafi® H2Ri is a patented geosynthetic, woven with a special blue water-wicking material, offering the ultimate roadway sub grade stability solution designed to be integrated in extreme subsoil environments where water control is critical to road strength and durability. TenCate Mirafi H2Ri's unique blue material wicks water away from subsoil areas, improving road durability.
TenCate Mirafi® H2Ri  is a revolutionary continuous moisture management system for base course reinforcement and sub grade stabilization of transportation, site development, and energy infrastructure projects such as roads, railway construction, airports, embankment stabilization on soft foundations, reinforcement for mechanically stabilized earth (MSE) structures, linear support and reinforcement over other environmental market applications. When superior performance, flexibility and versatility are necessary, Mirafi® H2Ri makes the difference for varying application needs including:

• Transporting water against gravity, reducing water accumulation due to ponding
• Increased roadway life expectancy in flexible pavements via mechanical and hydraulic stabilization
• Removing excess moisture from base/sub grade & sub grade soils
• Mitigation of frost heave and frost boils
• Mitigation of lateral edge cracking in expansive clays
• Replacement of drainage fill in high water table areas
• Additional working surfaces include: unpaved roads, flexible pavements, working platforms, airport runways, taxiways and railways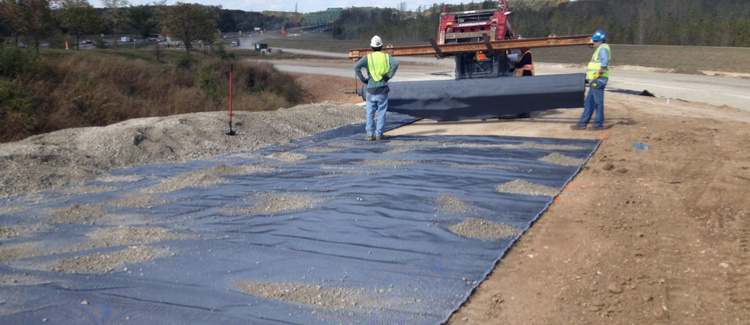 Overview of Benefits:

♦ TenCate Mirafi® H2Ri has higher tensile modulus properties than other leading stabilization products.
♦ TenCate Mirafi® H2Ri geosynthetic fabric has a unique double layer construction, which provides an extraordinary separation factor with superior filtration and drainage.

♦ TenCate Mirafi® H2Ri has excellent soil and base course interaction, resulting in greater load distribution.

♦  TenCate Mirafi® H2Ri panels can be seamed in the factory or field, providing cross-roll direction strength to facilitate efficient installation.

♦ TenCate Mirafi® H2Ri uniform openings provide consistent filtration and flow characteristics of a fine to coarse sand layer.

♦  In terms of durability, TenCate Mirafi® H2Ri series geotextiles have robust damage resistance for moderate to severe stress installations.
♦ TenCate Mirafi® H2Ri comes is several roll sizes to fit various project requirements.

0
stars based on
0
reviews