American Excelsior Curlex Erosion Control Blanket-American Excelsior Type 1, Single Net
Article number:
37085702
Availability:

In stock

(241)
Delivery time:
1 - 3 business days
NOTE: Orders that require item(s) to be shipped from our warehouse to your location will not be processed without receiving a shipping quote beforehand. Please fill out our "Quote Request" form below and we will contact you with the estimated shipping charges. You can also contact us at 281-717-8921 for a quote.
Why We Use Erosion Products?
Erosion has been a problem since the beginning of time; shorelines degraded, topsoil lost, and hillsides washed away. It has not been until recent history that our population has recognized the extreme devastation that erosion creates. Due to this realization, the U.S. Environmental Protection Agency created Phase II of the National Pollutant Discharge Elimination System (NPDES) to help with the erosion and sediment control in America. The way an erosion control product works is that it prevents soil loss and helps vegetation develop a root structure and growth for natural erosion protection. U.S. Erosion Control's wide variety of products has been engineered for all scenarios of erosion from an area that needs minimal protection and rapid degradation, to a replacement for rip rap.
Every development project has areas with the potential for soil erosion. Our Curlex Excelsior Blankets are specifically designed to help control soil erosion on slopes and channels, preserve the soil and promote ideal growing conditions for grass seed, while simultaneously protecting topsoil from wind and water erosion.
By design, Curlex Excelsior Blankets have a built-in swell factor. Wet curled excelsior fibers slightly expand in thickness and interlock to form a strong, fiber matrix. This allows the fibers to provide intimate contact with local terrain. Water flow is trained to follow the curled fiber matrix. The roughness of the curled excelsior matrix slows the velocity to a point where gravity takes over, which allows moisture to slowly seep into the topsoil to promote ideal growing conditions. Curlex Excelsior Blankets are made from weed free excelsior and are green in color.
Product Details:
| | | | |
| --- | --- | --- | --- |
| Item Number | Roll Size | Type | Price |
| 37085702 | 8 ft. x 150 ft. | Type 1 - Single Net | $72.95 |
| 37085700 | 4 ft. x 150 ft. | Type 1 - Single Net | $47.00 |
Benefits:
Immediately effective upon application—bonds directly to the soil
Built-in swell factor which allows the fibers to expand and form a stronger matrix when wet
Provides ideal conditions for grass seed growth, while simultaneously shielding the topsoil from water and wind erosion
Curlex excelsior fibers are seed free
Curlex excelsior fibers are engineered specially for erosion and sediment control
Excellent functional longevity that lasts through grow-in
Ideal for dormant seeding and long-term protection in arid climates
Faster vegetative establishment and greater biomass production 
Minimizes soil loss and turbidity of effluent runoff
Proven to be completely environmentally friendly
Biodegradable anchor staples sold separately
Curlex I Erosion Control Blanket_Spec Sheet
Guidelines for Installing Rolled Erosion Control Products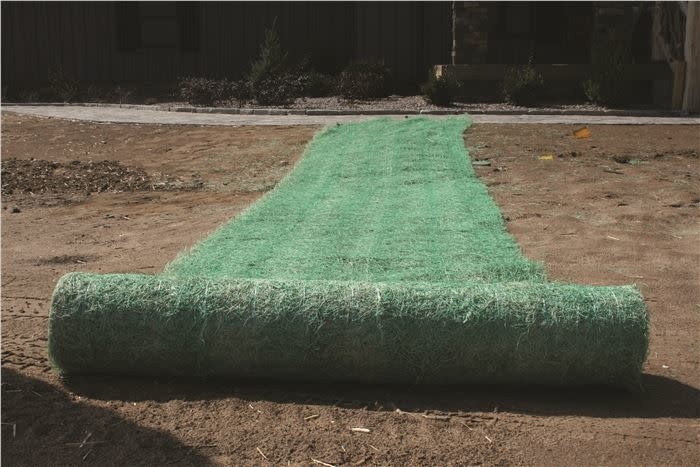 0
stars based on
0
reviews