Concrete Washout Sign, Single Sided
Article number:
37089329
Availability:

In stock

(20)
Delivery time:
1 - 3 business days
Product Description:
A key consideration for concrete washout areas is to ensure that adequate signage is in place identifying the location of the washout area. Part of inspecting and maintaining washout areas is ensuring that adequate signage is provided and in good repair and that the washout area is being used, as opposed to a washout in a non-designated area of the site.
The sign measures 18" x 24" and has a wooden stake or a metal stepper stake attached for quick and easy installation. You also have the option of ordering the sign without a stake attached. Each sign is printed in red and white color, with large text, that can easily be seen and read by every passerby. The signs are single sided and made of coroplast for long term use.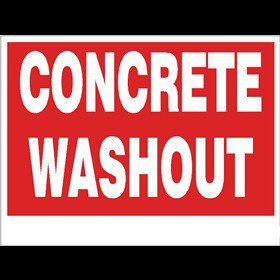 Available Options:
Red & White - single sided 18" x 24" sign with no stake attached (just the coroplast sign)- $16.25
Item # 86876875
Red & White - single sided 18" x 24" sign with a 4' wood stake attached - $24.50
Item # 37089318
Red & White - single sided 18" x 24" sign with a 4' metal stepper stake attached - $29.50
Item # 37089329
4' wood stake comes attached


 

4' metal stepper stake comes attached
0
stars based on
0
reviews