Survey Stakes, Color Coded - 50 Per Bundle
Article number:
37046399
Availability:

In stock

(10)
Delivery time:
1 - 3 business days
Product Description:
Color Coded Survey Stakes are used by power line companies, surveyors, and general contractors to properly mark the ground for a project before construction begins. The stakes are color coded when assessing sites to mark boundaries, record data, and convey information to other people. For example, white survey stakes are often used by contractors to indicate where proposed digging, cutting or constriction will take place. Pink is strictly used by land surveying companies to state where the temporary survey markings are.
Sold by: 50 stakes per bundle
Size of each stake: 5/8" x 1-3/8" x 32"
Item # 37046399 - Blue:       50/ Bundle
Item # 37046400 - Green:    50/ Bundle
Item # 37046401 - Orange:  50/ Bundle
Item # 37046402 - Pink:       50/ Bundle
Item # 37046403 - Purple:   50/ Bundle
Item # 37046404 - Red:       50/ Bundle
Item # 37046405 - White:    50/ Bundle
Item # 37046406 - Yellow:   50/ Bundle
The colors and what they are used for

: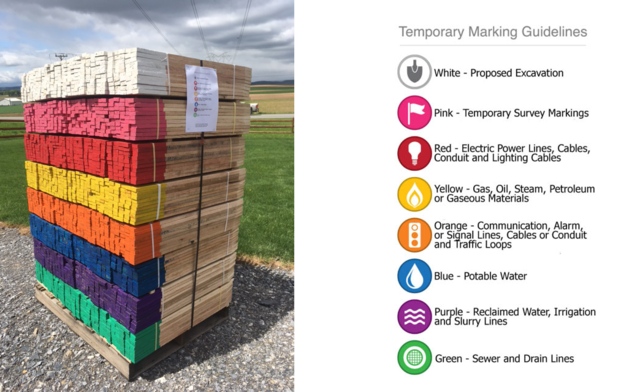 0
stars based on
0
reviews