ECB Jute Mesh SZ. 4' x 225'
Article number:
39049598
Availability:

In stock

(7)
Delivery time:
1 - 3 business days
NOTE: Orders that require item(s) to be shipped from our warehouse to your location will not be processed without receiving a shipping quote beforehand. Please fill out our "Quote Request" form below and we will contact you with the estimated shipping charges. You can also contact us at 281-717-8921 for a quote.
Product Description:
Jute is a truly versatile natural fiber of a bamboo-like plant. Its silky texture, high tensile strength, and resistance to heat and weather provides numerous applications. Jute netting is biodegradable, usually disappearing within one to two years. Since it is made from plants, it is one of the most widely used fibers and is one of the most dependable and proven erosion products available. Jute erosion control mat contains about 65% open area. This completely biodegradable blanket is the solution to environmentally sensitive general erosion control applications.

Jute stabilizes the soil and promotes the establishment of permanent vegetation on all types of slopes (road slopes, drainage slopes, landfill slopes, and backyard slopes, etc.) Jute conforms to slope contours and surface irregularities. Jute stabilizes surface soil on slopes with thousands of tiny check dams per square yard.
Rolls are 4' X 225' and palatalized 12 rolls to a pallet

Specifications:
Item #


39049598

Roll Size:

4' x

225

' (width x 

length) (

1.22 m x 68.6 m)
Roll Area:

100 SY (83.3 sq.m.)

Open Area:

70

-

75

%

Mesh Size

11mm x 18mm

Water Absorption:

>450% of fabric weight

Thickness:

0.25 inch (6 mm)

Recommended Sheer Stress:

0.45 lbs./sq.ft. (22 N/sq.m

)
Recommended Flow:

6 fps (1.8 m/s)

Recommended Slope:

3:1

Coverage

100 Square Yards/roll

Roll Weight:

9

2

Lbs (+/

-

5

%)

(

500

g/m2)

Qty. Per Pallet:

9 and 12

Country Origin:

India

Product Specification Sheet:

Rolled Jute Mesh Specification Sheet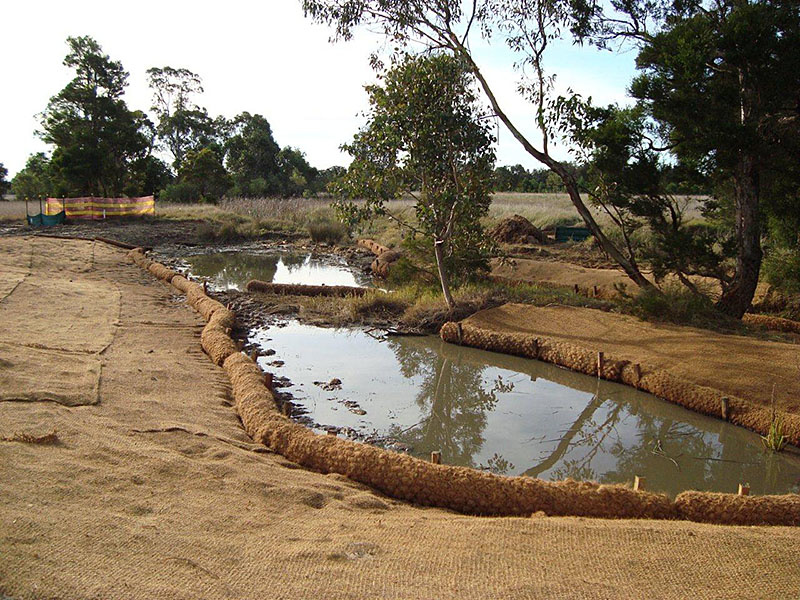 0
stars based on
0
reviews