Raw Unhulled Bermuda Grass Seeds, 50 lb. Bag
Article number:
49909312
Availability:

In stock

(2)
Delivery time:
1 - 3 business days
Product Description:

Common Bermuda Grass is a warm season, perennial grass known for its versatility and persistence in both pasture and turf. Plant unhulled seed any time of the year, but it will not germinate until soil temperatures reach at least 65 degrees.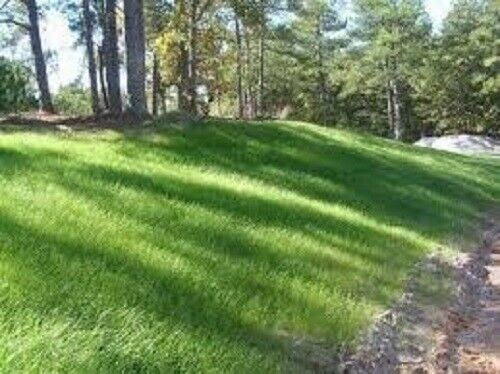 Uses:
Erosion control seed varieties for grassing, berm seeding, slope retention, soil stabilization, lakeside seeding, golf course seeding, athletic fields and home lawns.

Applications:
• For full sun areas
Desirable Characteristics:
• Good to High Overall Quality

• Excellent For A Warm Season Sunny Lawn
• Wear Tolerant Durable Turf
• Drought Resistant
• Very Fine Turf Type Texture
• Spreading Growth Habit

What's the difference between hulled and unhulled Bermuda grass seeds?
The short answer is that hulled Bermuda grass seeds are quicker to germinate. This is because they have had their outer seed coat removed by mechanical means, which allows for water to enter the seed quicker, resulting in much quicker establishment.
If Hulled Bermuda grass seeds grow faster, why does anyone ever choose unhulled seeds?
The seed coat exists for a reason, to protect the seed during the crucial germination period. Indeed, a long germination period is nature's way of ensuring survival. Hulled Bermuda seeds only thrive in certain soil conditions. If anything is less than perfect, be it the moisture levels or the soil's acidity, then the seeds may die before they are able to successfully germinate. It is for this reason that hulled Bermuda seeds are rarely planted by themselves. Instead, to ensure the successful establishment of a planted area, grassing contractors will often plant a 50/50 mix of both hulled and unhulled seed. The hulled seed will germinate rapidly, while the unhulled seed will germinate gradually, just as nature intended, ultimately resulting in a lush and even growth.
Product Details:

| | | |
| --- | --- | --- |
| Item # | Quantity | Price |
| 49909312 | 50 lbs. | $185.00 |
Planting Specifications:
Daily Light Required: Full sun (8+ hours of daily sun)
Sun Tolerance: Excellent
Shade Tolerance: Low
Grass Color: Medium to dark green
Grass Texture: Moderately fine
Drought Tolerance: Excellent
Disease Resistance: Very good
Traffic Tolerance: Excellent
Planting Zones: All of zones 9,10,11,12; lower parts of zones 2,3,5,8
Recommended Planting Dates: Late spring through summer
Planting Rate: New Lawns: 2 lbs/1,000 sq ft;
Overseeding: 1 lb/1,000 sq ft
Planting Depth: 1/8"
Germination: 7-21 days
Mowing Height: 1"-1 1/2"
Should I buy hulled or unhulled Bermuda grass seeds?
0
stars based on
0
reviews