Privacy Screen - 130 Series, Forest Green SZ. 50' x 6' (5'-8")
Article number:
51990808
Availability:

In stock

(29)
Delivery time:
1 - 3 business days
Product Description:
Perfect for temporary construction fence. Our high quality temporary fence screen, in 50' rolls is always in stock and ready to ship, fast.
130 Series Privacy Screen is made from knitted heavy-duty polyethylene material, perfect for temporary use for construction fence and/or residential projects. With a lightweight property, installing the Privacy Screen on chain link fences can be easily done and can be easy to transport and store right after the project is done.
130 Series screen is the most economical option on the market without sacrificing quality and adding fillers. Transform any unsightly fence into an attractive feature while adding additional privacy. Perfect for installations that require high air flow.
130 Series Privacy screen looks great on any fence and is designed to be lightweight and stand up to the outdoor elements and is simple to install. All orders are finished with a double-thick folded edge and high quality commercial grade binding and brass grommets on all four sides, and is packaged and shipped to you ready for installation.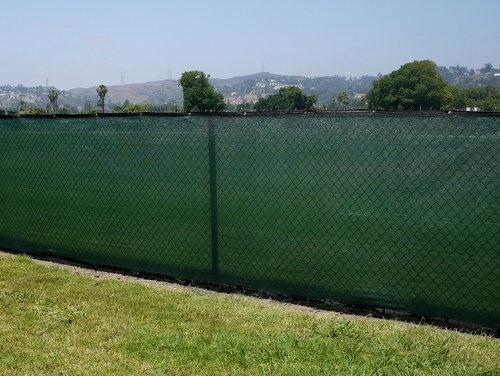 Product Details:

• Item # 51990808

• Comes in 50' x 5' x 8" Rolls

Product Benefits:

• 1-3 Year Life Expectancy
• 85% Privacy Blockage with excellent airflow
• Unique design allows more airflow than the 200 series Privacy Plus

• Lightweight and durable for temporary usage
• Outdoor use

• Durable enough to withstand all weather conditions

• Acid resistant
• UV protected material

• Mildew resistant

• Tear resistant
• Knitted HDPE UV with No Lead or Fillers• 300-GSM Black Binding & Solid Brass Grommets every 24"
Typical uses for privacy screens include:
•  Construction Sites
•  Commercial Storage
•  Highways
•  Material Yards
•  Parks and Recreation Areas
•  Privacy & Security for Chain link Fences
•  Residential Areas
•  Storage Areas
Special Order Colors: Black, Beige, Tan and Navy Blue
Privacy Screen Fence Specification Sheet
0
stars based on
0
reviews