LM-SX3030 Biaxial Geogrid, SZ. 12.9' x 164'
| | |
| --- | --- |
| Availability: | Usually ships within 2 to 5 business days |
| Delivery time: | 2 - 4 business days, or you can pick up in store |
Please contact us at 281-717-8921 for pricing and details.
Please Note: Orders placed online will not be processed without obtaining a shipping quote beforehand. Please fill out the "Request A Quote" form below. 
Product Description:
A geogrid is a geosynthetic with large openings or apertures. Geogrids are used as soil reinforcement below roads, under structures and behind retaining walls. They also reinforce paving overlays.
Geogrids can be uniaxial (strength in one direction) or biaxial (equal strength in both directions) and are made from polyester, polypropylene or fiberglass. Manufacturing methods include woven, knitted, extruded or otherwise "integrally formed."
The LM-SX3030 Biaxial Geogrid is designed to have roughly the same tensile strength in both directions and distributes loads over a wider area, increasing the load capacity of the soil. Base reinforcing geogrids interlock with the aggregate to confine the base and reinforce the subgrade. In paved or unpaved applications, they reduce rutting and help maintain the desired aggregate depth.
Typical applications:
Construction haul roads
Paved and unpaved roads
Railways and ports
Working platforms on weak sub-soils
Parking and paved areas
Multi-layer applications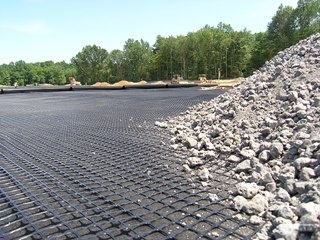 0
stars based on
0
reviews