Erosion Eel Low Impact Erosion & Sediment Control Device
| | |
| --- | --- |
| Article number: | 37793015 |
| Availability: | Contact us for delivery timeframe |
| Delivery time: | Special Order Only |
Special Order Only - please contact us to order this product or fill out our quote request form below.

Product Description:
The Erosion Eel is a highly effective and environmentally friendly low impact erosion and sediment control device. The Erosion Eel, by its very nature, functions to help prevent physical degradation of the environment by enhancing water quality.  It can be used in lieu of other conventional BMP items such as silt fence, rock check dams, and temporary diversion berms. It may be placed over multiple surfaces including soil, asphalt, concrete, and surface rock. 
The Erosion Eel is reusable within a project and can be moved to other projects. This product is manufactured with a high flow/ high strength outer filter sleeve encasing 100% shredded tire filter media. It installs quickly and easily, no trenching required! The durability and re usability of the Erosion Eel makes it a cost-effective BMP compared to other options.
Benefits:
♦  Replaces rock check dams, silt socks, silt fence, and wattles
♦  Sustainable, reusable, made from recyclable materials
♦  Requires no trenching for installation
♦  No soil disturbance during installation
♦  Made of a woven polypropylene geotextile
♦  Filled with recycled tires
♦  Requires no staking, (except in concentrated flow)
♦  Hardy and sustainable BMP
Erosion Eel_Specification Sheet
Sizes available by special order only:

♦ 9.5" diameter x 10'L Eel   (150 lbs)  (14 per pallet)
♦ 9.5" diameter  x 4.5'L Eel  (40lbs)  (28 per pallet)
♦ Custom sizes from 12" to 20" diameter available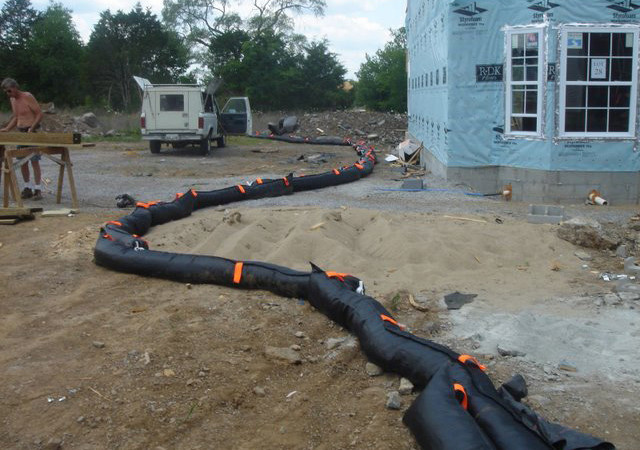 0
stars based on
0
reviews