Erosion Blanket - US-1X Single Net American Excelsior Natural w/ Poly Netting, SZ. 4' x 180'
| | |
| --- | --- |
| Article number: | 38027939 |
| Availability: | Usually ships within 2 to 5 business days |
| Delivery time: | Please contact us for delivery timeframe |
Why We Use Erosion Products?
Erosion has been a problem since the beginning of time; shorelines degraded, topsoil lost, and hillsides washed away. It has not been until recent history that our population has recognized the extreme devastation that erosion creates. Due to this realization, the U.S. Environmental Protection Agency created Phase II of the National Pollutant Discharge Elimination System (NPDES) to help with the erosion and sediment control in America. The way an erosion control product works is that it prevents soil loss and helps vegetation develop a root structure and growth for natural erosion protection. U.S. Erosion Control's wide variety of products has been engineered for all scenarios of erosion from an area that needs minimal protection and rapid degradation, to a replacement for rip rap.
Item # 38027939

US-1X Single Net American Excelsior Natural w/ Poly Netting -TXDOT Grade
The US-1X Single Net American Excelsior Erosion Control Blanket features a consistent thickness and distribution of fibers which allow for excellent flexibility and moisture absorption. The UV stabilized blanket features a photodegradable, green plastic exterior poly netting and stitching and is constructed of 100% excelsior wood fiber material.

The US-1X Single Net American Excelsior Erosion Control Blanket is used primarily to slow water runoff, provide effective sediment and erosion control, and enhance re-vegetation. This blanket is commonly applied to channel and ditch linings, slopes, culvert inlets and outfalls, riverbanks, and levees and provides excellent rainfall and rain splash protection on shallow to normal slopes and channel protection for low flow channels.
Erosion control blankets are classified as short term, long term, or permanent use, mostly based on whether vegetation is intended to replace or work in conjunction with the blankets. The US-1X Single Net American Excelsior Erosion Control Blanket degrades in approximately 12 months and is a TXDOT grade blanket.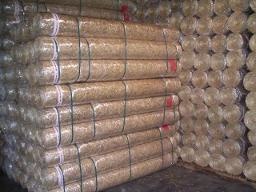 Benefits:

•

Able to withstand harsh weather conditions



•

Average lifespan is approximately 12 months
• 

Cost effective protection of exposed soils



•

Easy to handle and install
•

Environmentally friendly



•

Excellent functional longevity that last through grow in



• Faster vegetative establishment and greater biomass production

• Ideal for dormant seeding and long term protection in arid climates

•

Ideal for 4:1 -3:1 normal slopes and low flow channels



•

Immediately effective upon application - bonds directly to the soil
• Minimizes soil loss and turbidity of effluent runoff

•

Natural fiber blankets biodegrade



•

Works great for areas with fast rooting vegetation



Biodegradable anchor staples sold separately
Applications:
• Prevent erosion

• Protect and encourage vegetative cover
• Protect soil on completed projects

• Soil erosion control

• Vegetation establishment

Product Details:

♦  Size:  Available in 4' and 8' widths and varied lengths

♦  Netting:  1 layer of .5" x .5" opening, approximately 15 lbs/1000 yd2 photodegradable, green polypropylene plastic

♦ Thread:  600 denier degradable split yarn
♦  Matrix:  100% Excelsior Wood Fiber, .73 lbs/yd2
♦  Packaging: All rolls are wrapped tightly with stretch wrap to protect the rolled erosion control product from the weather and elements.

♦  Special Features:  US-1X has a 4" folded edge on both sides of the 4 ft. and  8 ft., folded and 1 cut on the 8'creating a stronger blanket and a cleaner edge
♦  Recommended Applications: US-1X is recommended for use on normal slopes ranging from 4:1 to 3:1 and in low flow channels.
♦  Recommended Installation Pattern:  The leading edge is to be trenched into a 6" deep trench and the blanket is to be placed parallel to the anticipated water flow. When more than 1 blanket is required, they are to be overlapped 6" on all overlapping sides and tiled in a shingle type pattern as to not let the water underneath the blanket.
Guidelines for Installing Rolled Erosion Control Products
Other Types / Sizes - Please Call To Order
| | | | |
| --- | --- | --- | --- |
| Product | Blanket Description | Net | Roll Size |
| US-1S | Single Net Straw Blanket | PP | 8' x 112.5' |
| US-1SRD | Single Net Straw w/Rapid Degrade Netting | RD | 8' x 112.5' |
| US-1SNN | Single Net Straw w/Natural Bio Netting | N | 8' x 112.5' |
| US-2S | Double Net Straw Blanket | PP | 8' x 112.5' |
| US-2SRD | Double Net Straw w/Rapid Degrade Netting | RD | 8' x 112.5' |
| US-2SNN | Double Net Straw w/Natural Bio Netting |  N |  8' x 112.5' |
| US-1X | Single Net Excelsior Blanket | PP | 8' x 90' |
| US-1XG | Single Net Excelsior Blanket-Green | PP | 8' x 90' |
| US-1X4 | Single Net Excelsior Blanket | PP | 4' x 180' |
| US-2X | Double Net Excelsior Blanket | PP | 8' x 90' |
| US-2XG | Double Net Excelsior Blanket-Green | PP | 8' x 90' |
| US-2X4 | Double Net Excel | PP | 4' x 180' |
| US-2SC | 70/30 Straw/Coconut Blanket | PP | 8' x 112.5' |
| US-2SCNN | 70/30 Straw/Coconut w/ Natural Bio Netting | NN | 8' x 112.5' |
Net Abbreviations:
PP=Polypropylene  /  NN=100% Natural Bio Netting /  RD=Rapid Degrade
0
stars based on
0
reviews