Straw Wattle, SZ. 18" x 20'
| | |
| --- | --- |
| Article number: | 60597249 |
| Availability: | Contact us for delivery timeframe |
| Delivery time: | Special Order Only |
Please fill out the "Quote Request" form below or contact us at 281-717-8921 and will be able to provide you with the estimated shipping charges. Otherwise, feel free to purchase "In Stock" items on our website and you can pick up the merchandise at our warehouse. Please Note: Orders placed online will not be processed without obtaining a shipping quote beforehand.
Product Description:
When vegetation is disturbed, straw wattles provide a solution that will minimize negative impacts on local wildlife.
Straw Wattles are man made tubes of compressed straw, wheat or rice, also known as erosion logs. They provide perimeter protection along contours or at the base of slopes, inlets and roadways to reduce soil erosion, runoff and retain sediment.
Straw Wattles are also used to intercept water running down a slope. You can use wattles over bare soil or in conjunction with erosion control blankets, on steep slopes, around drains for inlet protection or as a perimeter control for job sites. Straw wattles are weed free and help stabilize slopes by slowing, spreading and filtering overland water flow. They are flexible and conform to the soil surface. The wattles are secured by staking.
Our most popular sizes of straw wattles are 9" x 10',  9" x 25' and 12" x 20'. Other sizes and specifications are available upon request to fit your job site needs. Wattle stakes are sold separately.
Benefits & Recommended Uses:

•  Low cost solution to sheet and rill erosion problems

•  Straw in polymeric netting made for slope erosion control
•  Weed free and biodegradable
•  Excellent soil erosion prevention
•  Excessive run-off during construction
•  Often used in ditches for storm water control

•  Use in a variety of applications for sediment control, including perimeter, inlet control, waterways & preventing runoff from a job-site
• Silt fence and/or straw bale replacement on steep slopes

• Stores moisture for vegetation planted immediately up-slope
• Unexpected flood control
• Vegetation enhancement
• Simply stake into the ground during use
• Straw incorporates into the soil over time, adding organic material to the soil and retains moisture for vegetation
• Can be cut and joined together to fit any project
Product Specifications & Installation Guide:
| | |
| --- | --- |
| Color: | Natural |
| Item: | Wattle |
| Series: | Roll |
| Material: | Straw |
| Shape: | Tubular |
| | | | | | |
| --- | --- | --- | --- | --- | --- |
| Product | Diameter | Length | Lbs. / Wattle | Lbs. / Lin. ft. | Pallet Qty. |
| 9" x 10' | 9 inch | 10 ft. | 17 lbs. | 1.7 | 42 per pallet  |
| 9" x 25' | 9 inch | 25 ft. | 42.5 lbs. | 1.7 | 14 per pallet |
| 12" x 20' | 12 inch | 20 ft. | 50 lbs. | 2.5 | 10 per pallet |
| 18" x 20' | 18 inch | 20 ft. |   |   |   |
Straw Wattle Product Data and Specifications
Straw Wattle Installation Guide
Straw Wattle 9" x 10'    Item # 37078257     (9 inch diameter x 10 ft.) 

Straw Wattle 9" x 25'    Item # 37078260    (9 inch diameter x 25 ft.) 

Straw Wattle 12" x 20'   Item # 37078262    (12 inch diameter x 20 ft.) 

For special order sizes - Please allow 3 -5 business days:
Straw Wattle 12" x 10'  - Special Order
Straw Wattle 20" x 10'  - Special Order
Straw Wattle 20" x 20'  - Special Order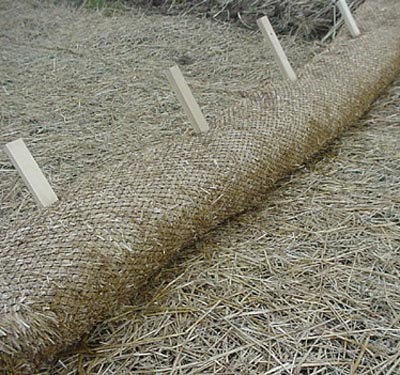 0
stars based on
0
reviews