GEOTEX 401 TXDOT TY1- Needle Punched Non-Woven 4 oz. Geotextile Material - SZ. 15' x 360'
| | |
| --- | --- |
| Article number: | 49792616 |
| Availability: | Usually ships within 2 to 5 business days |
| Delivery time: | Please contact us for delivery timeframe |
Please contact us for availability. 
Item #49792616
GEOTEX 401 Material TXDOT TY1- Needle Punched Non-Woven 4 oz.
SZ. 15' x 360'
Product Description:
Non-woven geotextile fabric is useful for a variety of civil and environmental engineering construction tasks to enhance durability and functionality. The fabric, which looks like felt, works well for most projects but is ideal for drainage and cushioning.
GEOTEX Nonwoven geotextiles are made from the highest quality polypropylene staple fibers and needle-punched to form a dimensionally stable fiber network and include fabrics for separation and stabilization, subsurface drainage, filtration, and cushioning. This family of non-woven products offers proven performance, is compliant with AASHTO/NTPEP standards, and is available in a variety of styles to fit your specific project needs and specifications. GEOTEX Nonwoven geotextiles are resistant to ultraviolet degradation and to biological and chemical environments normally found in soils.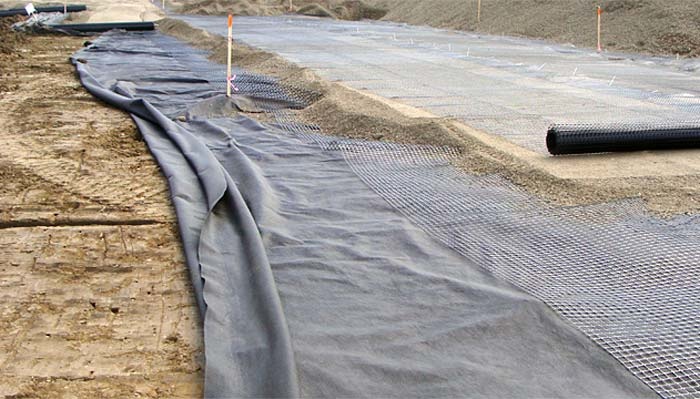 Uses Include:
♦ Filtration of soils in drainage applications by retaining soil particles
♦ Filtration beneath hard armor systems
♦ Environmental waste management
♦ Separation and stabilization in road and railway construction
♦ Separation and stabilization of paved and unpaved roads
♦ Prevention of soil movement in erosion control measures
♦ Cushioning and protection in many containment projects
♦ Produced from high quality polypropylene fibres, nonwoven geotextiles are needle-punched to form a strong fabric that retains its dimensional stability & is resistant to damage from construction stresses.
♦ Nonwoven Geotextiles are available in varying strengths and thicknesses to ensure appropriate material selection for your project. Custom roll sizes are also available.
Benefits:

♦ Requires less aggregate during construction
♦ Separates aggregate from soil, doubling the useful road lifer
♦ Provide superior hydraulics and soil retention to support filtration
♦ Mitigates dust in unpaved roads
♦ Provides cushioning and protection for critical lining systems
♦ Resists biological and chemical environments normally found in soils
♦ AASHTO/NTPEP Certified
♦ Reduces overall maintenance cost

♦ Use fewer natural resources – 1 truck of geosynthetic rolls = 850 truckloads of stone
♦ Installs faster than traditional methods reducing overall construction time
Applications:

Separation/Stabilization of paved and unpaved roads
Filtration in subsurface drainage systems and beneath hard armor systems
Environmental waste management
Specifications:

Tensile Strength: 120 lbs.
Grab Elongation: 50%
CBR Puncture: 310 lbs.
Trapeziodal Tear: 50 lbs.
UV Resistance at 500 hrs. 70%
Apparent Opening Size (AOS)3: 70 Sieve US Std.
Permittivity: 1.7 sec⁻¹
Water Flow Rate: 140 gpm/ft²
Roll Size: 15 ft x 360 ft.
GEOTEX 401 Non-Woven Geotextile Fabric - Spec Sheet
0
stars based on
0
reviews