Coconut Coir Log With Natural Net, SZ. 12" x 10'
| | |
| --- | --- |
| Article number: | 37260366 |
| Availability: | Usually ships within 2 to 5 business days |
| Delivery time: | Please contact us for delivery timeframe |
 Please contact us for shipping quote. Orders placed online for this product will not be processed.
Item # 37260366

Coconut Coir Log with Natural Net

SZ. 12" x 10'
Product Description:

Coir fiber has the highest strength and durability of any readily available natural fiber and is used for making a variety of products including products for protecting and improving natural resources. Typical coir erosion control products, like coir wattles and logs, consist of coconut coir fiber twine netting and are filled with coir mattresses. Coir fibers and coir erosion control products are considered the best for the most environmentally friendly choice when it comes to erosion control, landscape, and restoration projects.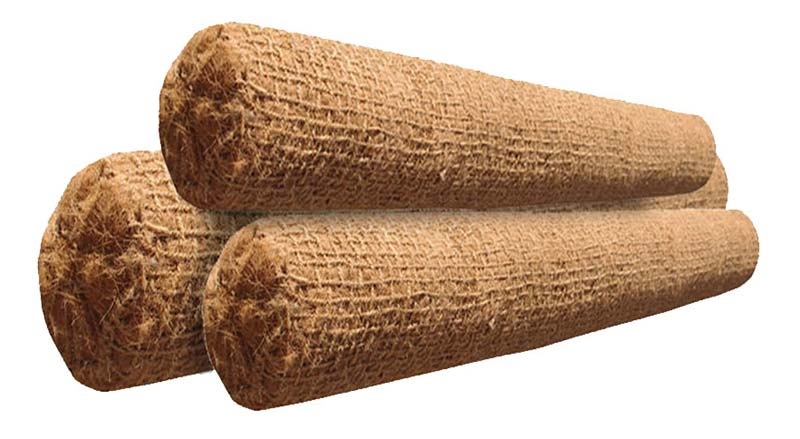 Coconut Coir Logs Verses Coconut Coir Wattles:
They may be similar in appearance; however, they are designed for completely different applications. Coconut Coir Logs (rolls) are densely packed to provide strong support and should be used in streambanks, riverbanks, on slopes, or other erosion prone areas, where strong support or tougher erosion control requirements are needed. In addition, Coconut Coir Logs are designed to withstand high water flow and wave impact without the loss of material to ensure maximum erosion prevention. They also enhance plant growth and microbial activity in high water flow areas.
Coconut Coir Logs are a popular option for erosion control. Our coir logs are assembled in America, which greatly reduces the cost and makes them one of the most affordable in the USA!  Our coir logs are 100% biodegradable and are tightly wrapped dense cylinders of natural coconut coir fiber, held together with strong, Eco-friendly natural coir twine webbing which is hand knotted for superior performance.
Coconut fiber material offers greater reinforcement, extended longevity, and provides a longer lasting alternative in areas that have greater exposure to water contact, such as stream and riverbanks, wetland restoration, riparian and other environmentally sensitive areas. Our Coconut Coir Logs are designed to withstand high water flow and wave impact without loss of material to ensure maximum erosion prevention.
Coconut Coir Logs are easy to place, use, and install and create a natural control area that helps establish growth and control erosion. Coconut Coir Logs have been effectively used for erosion control in restoration projects, stabilization areas, and construction job sites to help prevent sediment from leaving the project due to earth disturbing construction activities.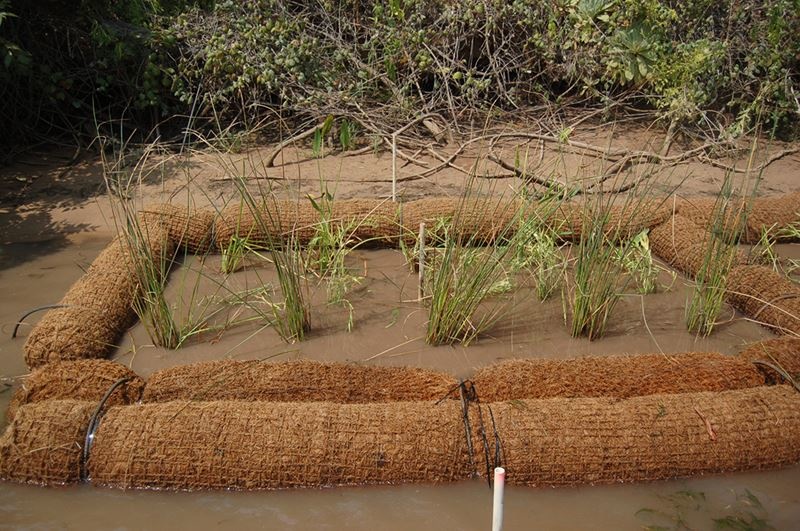 Our coconut coir logs come if 3 diameter sizes.  The 9-inch, 12-inch and 20-inch and are available by special order only.
•   9" x 10'

•   9" x 16'

•  12" x 10'

Applications:
Coir Coir Logs can be placed directly on the bank, often retaining fill material or securing new channel alignment.
Coconut Coir Logs are placed offshore to break waves and encourage sedimentation and re-vegetation. They can also be used for wetland stabilization. Other standing water applications include placing coir logs along the shores of lakes, ponds, and stream banks to protect against erosion.
Benefits:
• Environmentally friendly; safe for surrounding wildlife
• High air and extremely water permeable
• Enhance plant growth and microbial activity in high water flow areas
• Provides nutrients to surrounding areas
• Effectively holds seeds and saplings in place; provides stability over time
• Economical
• Easy to install, pick up and move
• Can be installed to natural contours, often found in high erosion areas
• Low maintenance
• Filters runoff and discharge effectively
• High performance and effective
• Protects storm drain inlets
• Reusable, natural and 100% biodegradable
• Strong and durable outer netting; very strong holding power
• No removal or disposal costs
• Requires no chemical treatment
• Typical lifespan is 2 to 5 years
Product Specification Data Sheet:
Coconut Coir Logs SZ. 12 in. x 10 ft. - Specification Data Sheet
0
stars based on
0
reviews