Quick draw turf type annual rye, 50 lb. Bag cool / winter seed temp
Article number:
49895525
Availability:

In stock

(4)
Delivery time:
1 - 3 business days
Item # 49895525
Annual Rye Grass Seed
Size: 50 lb. Bag
Description:

Annual Rye grass is one of the most popular seeds sold for lawns and is planted all over the world on it's own and in numerous grass seed mixtures. This cool season grass should be planted in early spring or fall in temperatures of 61-70°F. Annual Rye grass performs best in sunny and shady conditions. Annual rye grass is exceptionally useful as a cover grass when planted with slower growing permanent lawns. Ideally suited for short term seasonal use in areas reaching below the transition zone, annual rye grass is a great cover to create green grass on new grass areas. In warmer regions, rye grass lawns may require watering, fertilization and more frequent mowing.
Its uses are many, including temporary coverage for erosion control, short term use on reclamation sites, parks, new lawns, and along highways. Annual rye grass may be seeded with other grass mixtures, legumes, clovers and small grains. Annual Rye grass is fast germinating, quick growing and requires low to medium fertilization.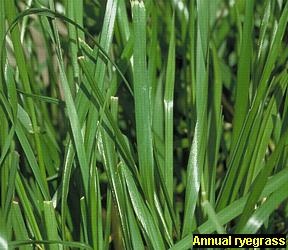 Uses:
• cool season turf
• slower growing permanent lawns
• temporary areas needing grass cover
• parks
• new lawns
• along highways
Seeding Rate:
5-10 LBS/1,000 SQ FT
Advantages:
• 50-lb bag of annual rye grass seed creates an attractive, dark green lawn
• Adaptable to many soils and climates
• Fast germination and growing rates
• Requires low to medium fertilization
• Ideal for sunny to lightly shaded areas
• Great for over-seeding warm season grasses
• Covers up to 10,000 sq. ft. with 5–10-day seed germination
Identifying Tips:
A coarse, shiny lime-green grass. Leaves are rolled in the bud and long, narrow claw-like auricles are present. Annual rye grass is a bunchgrass with an upright growth habit and shallow roots.
Maintenance:
Moderate to high maintenance and only moderately wear resistant.
Planting and management tips for annual rye grass:
Mowing:
• Mow at 1.5 - 2 inches.
• In spring as warm-season grasses come out of dormancy, gradually reduce the height of the rye grass by mowing it more closely and more often to encourage spring growth of warm-season grasses.
Fertilizing:
• Fertilize using 1 - 2 lbs. nitrogen/1000 sq. ft.per year during the period ofactive growth (October - May)
Planting:
• Seed at 7 - 9 lbs. seed/1000 sq. ft.
Irrigation:
• Water regularly if rain is absent
•  In spring, water deeply and less often to encourage the growth of warm-season grasses coming out of dormancy
Special problems:
•  Annual habit of growth; not for use as a permanent lawn
How much will a 50 lb. bag of grass seed cover?
• A 50 lb. bag covers Up to 10,000 sq. ft
0
stars based on
0
reviews